Sustainability
SUSTAINABILITY APPROACH
CICT's sustainability targets are set, and efforts are guided by CapitaLand Investment (CLI) as a CLI-sponsored real estate investment trust (REIT). The Manager and the Property Managers who oversee the operations of CICT abide by CapitaLand's sustainability framework, policies and guidelines, as well as ethics and code of business conduct.
CICT is aligned with CapitaLand's 2030 Sustainability Master Plan (SMP) unveiled in 2020 to elevate the Group's commitment to global sustainability in the built environment. The SMP drives CapitaLand's sustainability efforts in the ESG pillars, enabling the Group to create a larger positive impact for the environment and society. CapitaLand's 2030 SMP is regularly reviewed where necessary to complement the group's business strategy and align with climate science.
BOARD STATEMENT
At CICT, sustainability is at the core of everything we do. We are committed to growing in a responsible manner, delivering long-term economic value, and contributing to the environmental and social well-being of our communities. The material environmental, social and governance (ESG) factors have been identified with set targets for 2030, in alignment with CapitaLand 2030 SMP. This will be reviewed by the Board of the Manager of CICT together with management every two years.
CICT's ESG plan steers our efforts on a common course to maximise impact through building a resilient and resource-efficient real estate portfolio, enabling thriving and future-adaptive communities, and accelerating sustainability innovation and collaboration. Ambitious ESG targets have been set by CapitaLand and adopted throughout the organisation including CICT and these targets include carbon emissions reduction targets validated by the Science Based Targets initiative (SBTi). Following the Group's first scheduled review in 2022, the SMP targets have been revised to include SBTi-approved targets in line with a 1.5˚C scenario1, Net Zero commitment, and enhanced focus on social indicators.
The Board of the Manager of CICT is responsible for overseeing the Trust's sustainability efforts and takes these ESG factors into consideration in determining its strategic direction and priorities.
The Board also approves the executive compensation framework based on the principle of linking pay to performance. The Manager's business plans are translated to both quantitative and qualitative performance targets, including sustainable corporate practices.
COMMITMENT AND INVOLVEMENT OF CLI AND CICTML BOARDS, MANAGEMENT AND STAFF
Role of CLI Board, Management and Staff
CLI group-wide sustainability management comes under the purview of a CLI Board Committee – the Strategy and Sustainability Committee (SSC). The CLI SSC, chaired by Lead Independent Director, is responsible for overseeing sustainability strategies and goals including providing guidance to management and monitoring progress against achieving the goals of any sustainability initiatives in 2022. It is supported by the Group Sustainability Office and various work teams to drive continued progress and improvement in the areas of ESG. The work teams comprise representatives from CLI business units and corporate functions. This governance is cascaded from the Group level to CICT level through CICT's Sustainability Committee.
As Head of the business unit, the CEO of Retail and Workspace, CLI, oversees the Property Managers, which have their own Environmental, Health and Safety (EHS) Committee. The Property Managers have an Engineering, Systems and Sustainability team whose role includes integrating sustainability into operations.
Role of CICTML Board, Management and Staff
The Board of the Manager of CICT (the Board) considers sustainability issues as part of its strategic formulation, confirms the material ESG factors listed by the Manager and Property Managers and oversees the management and monitoring of the material ESG factors. The Board sets the Trust's risk appetite, which determines the nature and extent of material risks that CICT is willing to take to achieve their strategic and business objective. As part of the material risk issues being highlighted, climate change has been identified as critical. The Board is actively involved in discussions on climate-related initiatives and regularly reviews climate change risks as part of its Enterprise Risk Management (ERM) Framework. The update to the Board is conducted at least twice a year at the quarterly or ad hoc Board meetings and covers relevant climate-related topics including CapitaLand 2030 SMP, green capital expenditure plan and review to sustain green rating of the properties, performance metrics such as carbon emissions performance, progress on the reduction targets, as well as stakeholders' expectations on climate change. Any environmental incidents, which may include climate-related damages or disruptions, are also reported to the Board. As EHS factors are considered as part of the asset investment evaluation process and strategy, they are presented to the Board where relevant.
CICT has a Sustainability Committee championed by the CEO (also an Executive Director) of the Manager. This Sustainability Committee provides strategic oversight, drives initiatives and reporting related to climate-related risks and opportunities, as well as the broader environmental issues. The CEO of the Manager is responsible for CICT's climate change-related targets. A key objective of the Manager's senior management is to transit to a low-carbon business that is aligned with climate science and to build a resilient and resource efficient portfolio. As part of these efforts, the directors of CICT Manager, senior management and relevant stakeholders will undergo training to further build capacity with respect to climate-related risk and opportunity management. The frequency and content of these capacity building trainings will be regularly reviewed to incorporate current and emerging issues relating to environmental risk management.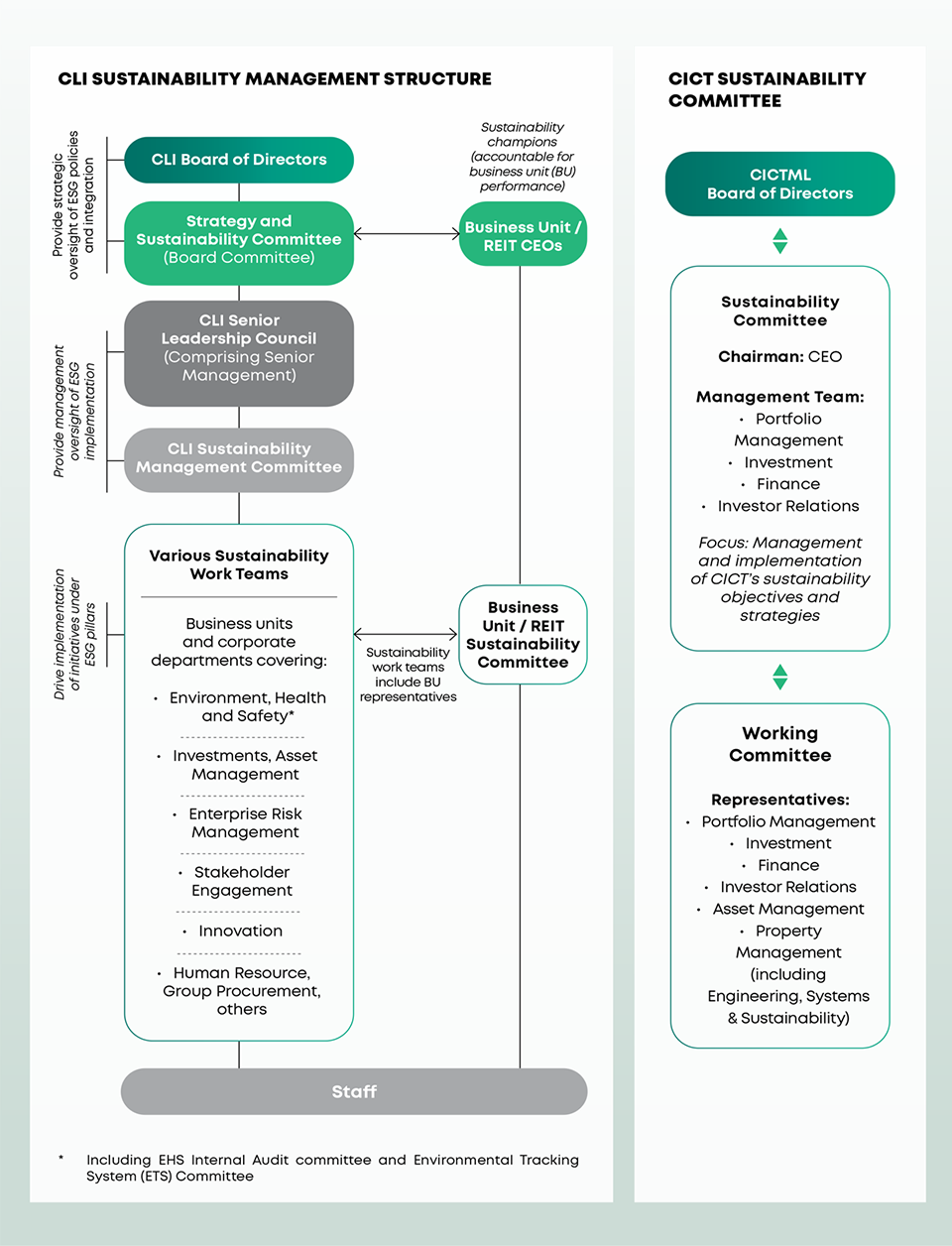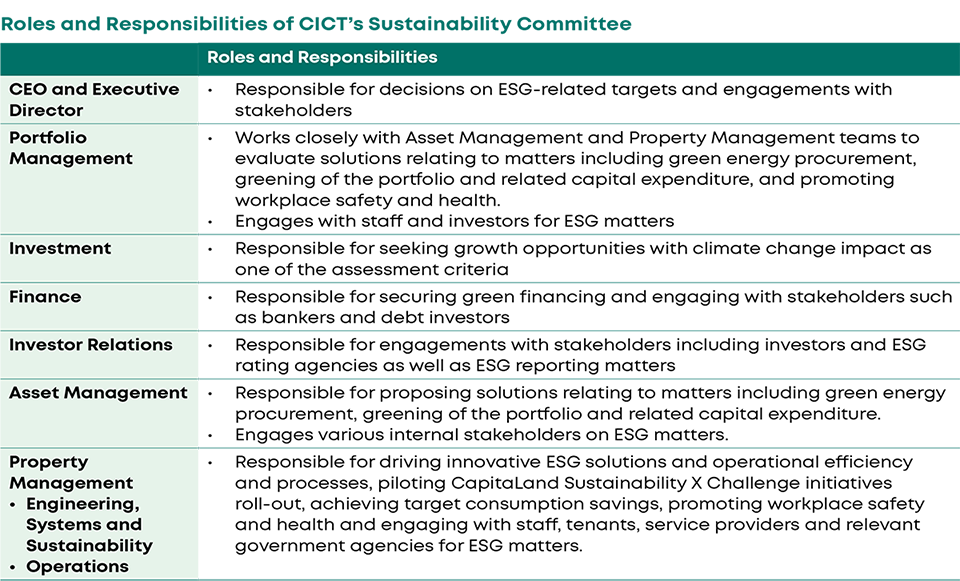 MATERIALITY
In line with CLI, the Manager and Property Managers have a regular review, assessment and feedback process in relation to ESG topics. One key avenue is the annual groupwide Risk and Control Self- Assessment exercise, which entails the identification, assessment and documentation of material risks and corresponding internal controls. These material risks include fraud and corruption, environmental (e.g. climate change), health and safety, and human capital risks which are ESG-relevant. More information can be found under Risk Management in the Annual Report 2022.
Guided by CapitaLand's 2030 SMP to elevate the group's commitment to global sustainability, CLI and CICT identifies and reviews material issues that are most relevant and significant to the company and its stakeholders. These ESG material issues are assessed and prioritised based on the likelihood and potential impact of issues affecting the business continuity of CLI and CICT. For external stakeholders, priority is given to issues important to the community and applicable to CLI and CICT. For more details, please refer to the Material Topics and Boundaries in the Sustainability Report 2022.
Prioritisation of ESG Material Issues

CREATING VALUE AND ALIGNMENT TO UNITED NATIONS SUSTAINABLE DEVELOPMENT GOALS (UN SDGs)
CICT's material ESG issues and the value created, aligned to CapitaLand's 2030 SMP focus areas and commitments2, are mapped to CICT's resources – Financial, Organisational, Properties, Environment, and Stakeholders & Communities. This is further mapped against eight UN SDGs that are most aligned with CapitaLand's 2030 SMP focus areas, and where CICT can achieve the greatest positive impact.
The UN SDGs call on companies everywhere to advance sustainable development through the investments they make, the solutions they develop, and the business practices they adopt. In doing so, the goals encourage companies to reduce their negative impacts while enhancing their positive contributions to the sustainable development agenda.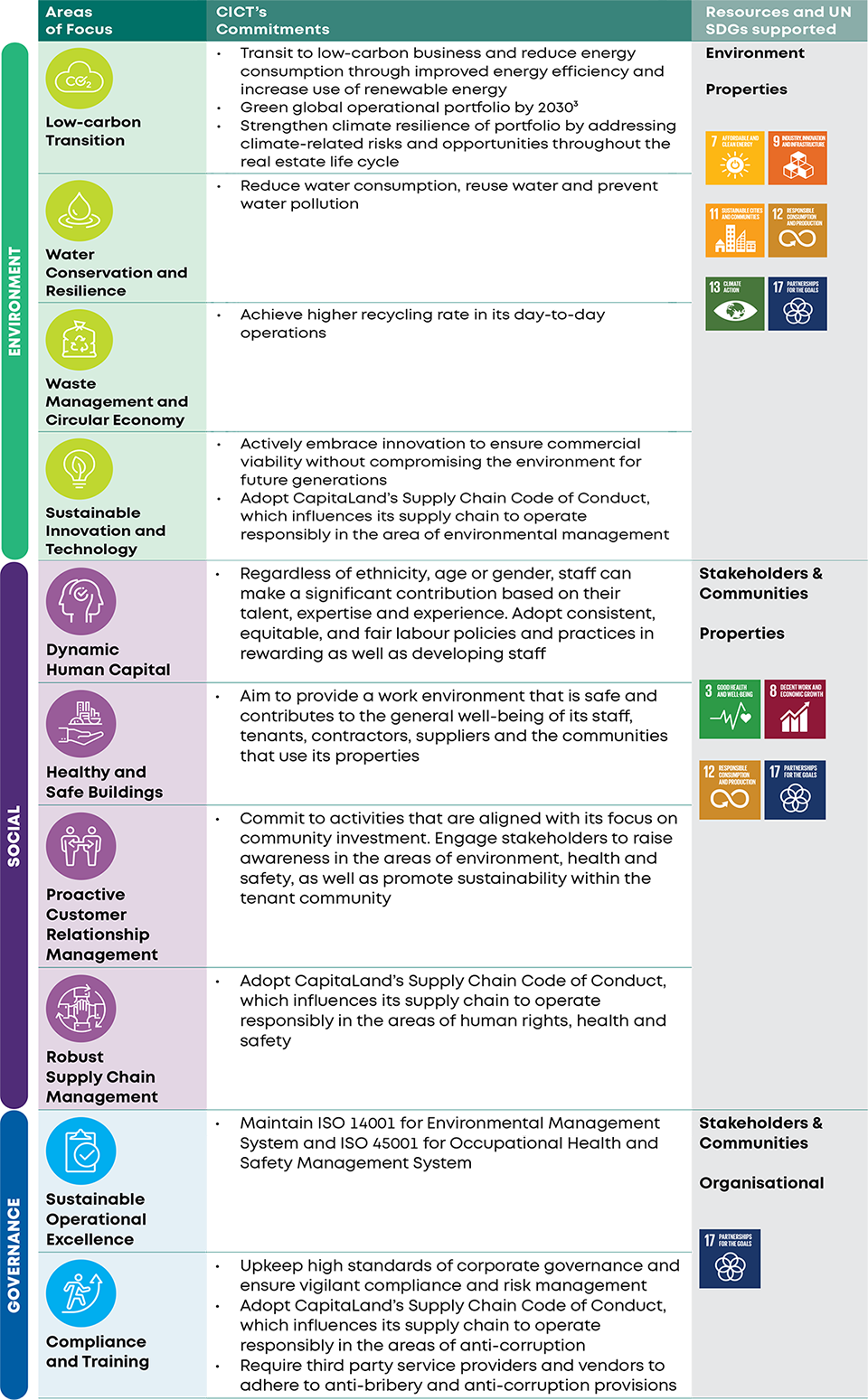 The material topics and boundaries are summarised here.