OUR POLICIES & OBJECTIVES
Identify opportunities in managing its property portfolio to deliver long-term benefits
Identify and respond to climate change risks
Transit to low-carbon business
Reduce energy consumption and transit to renewable energy sources
Reduce water consumption, encourage use of recycled water and rainwater harvesting
Manage waste through construction efficiency and increase rate of recycling
Manage biodiversity to contribute positively to the natural environment
Engage stakeholders to play their part
ACCOUNTABILITY
REIT and BU CEOs are Environment, Health and Safety (EHS) Champions
ISO 14001-certified Environmental Management System (EMS) ensures accountability of relevant managers and all staff
Set key performance targets linked to remuneration for all staff, and performance tracked via the online CapitaLand Environmental Tracking System (ETS)
OUR APPROACH & IMPLEMENTATION
Environmental Management System (EMS)
Ensure legal compliance
Identify environmental aspects and manage impact
Sustainable Building Guidelines – includes the updated Environment, Health and Safety Impact Assessment (EHS IA) and stakeholder consultation
Appoint ISO 14001-certified main contractors or conduct EMS legal compliance on site
Environmentally sustainable operations – EMS Standard Operating Procedures
Key Performance Indicators
Green rating targets set for new buildings and major refurbishments
Green existing property portfolio
Eco-efficiency targets: improve performance through tracking of energy and water usage, waste generation and carbon emissions
Stakeholder engagement
MANAGING OUR ENVIRONMENTAL FOOTPRINT
CapitaLand's Environmental Management System (EMS) is a key tool in managing CICT's environmental footprint across the portfolio. This EMS is integrated with CapitaLand's Occupational, Health and Safety Management System (OHSMS) to form CapitaLand's Environmental, Health and Safety Management System (EHSMS). CapitaLand's EHSMS is audited by a third-party accredited certification body to ISO 14001 and ISO 45001 standards. ISO 14001 and ISO 45001 are internationally recognised standards for the environmental management of businesses and occupational health and safety management of businesses respectively.
Environmental, Health and Safety Policy
CICT is committed to protecting the environment and upholding the occupational health and safety (OHS) of everyone in the workplace*, and will:
Carry out exemplary Environmental, Health and Safety practices to minimise pollution and health and safety risks
Seek continual improvement on its Environmental, Health and Safety performance
Comply with pertinent legislations and other requirements
Implement the CapitaLand Sustainable Building Guidelines and Occupational Health and Safety programmes
This policy is readily available to all employees, tenants, suppliers, service providers and partners.
Risk Management of Environmental Aspects and Impact
Climate change risks and opportunities are also identified and mitigated through CICT's ERM framework and the externally certified ISO 14001 EMS. As part of the certified EMS, new or updated legal requirements are reviewed quarterly and compliance is evaluated annually. Risk management of environmental aspects and impacts involves identifying and managing significant environmental aspects of our business operations that can potentially have a negative impact on the environment. The EMS provides a systematic approach to assess the significance of each environmental aspect and impact based on factors such as the likelihood of the occurrence, severity of the impact and control measures implemented. CICT strives to minimise impacts such as resource depletion, carbon emissions and waste generation, by setting environmental targets such as green building rating targets; carbon emissions, energy and water reduction targets; and stakeholder engagement activities. The targets are linked to the remuneration for staff including top management.
Training and Awareness Programmes
Employees attend training and awareness programmes to facilitate effective implementation of CapitaLand's EHSMS. In 2021, 21.5% of employees attended EHS-related training, clocking over 1,640 training hours. New employees are introduced to CapitaLand's EHS policy and EHSMS. In light of COVID-19, more digital learning sessions were conducted in 2021.
Internal and External Audits
CapitaLand has in place an internal audit system to ensure the conformance and effective implementation of its EMS to ISO 14001 international standards. External audits are conducted annually by a third-party accredited certification body.
Engaging Tenants to Go Green
Beyond developing environmentally sustainable properties, and operating them according to best practices, CICT understands the vital role that end-users of its buildings play. Collaboration with tenants is becoming more important to influence and support their sustainability goals. A green clause is implemented across all leases in its retail properties and for new leases in its office properties in Singapore where tenants are to support green initiatives by the landlord including proper disposal of waste. For all its properties in Singapore, a green fit-out guide is given to new tenants to encourage adoption of greener fit-outs, lighting efficiency requirements and promote green practices and behaviour.
SUSTAINABLE DEVELOPMENTS AND ASSETS
CapitaLand Sustainable Building Guidelines
CICT refers to CapitaLand's Sustainable Building Guidelines (SBG), an in-house guide developed since 2007, to ensure environmental considerations are incorporated in all stages of its properties' life cycles – from feasibility, design, procurement, construction, operation to redevelopment. It also covers developments and refurbishments. The SBG is regularly reviewed to ensure continuous improvement, with a focus on four key objectives of minimising carbon footprint and energy consumption, water management, reducing generation of waste and promoting biodiversity in the life cycles of its developments.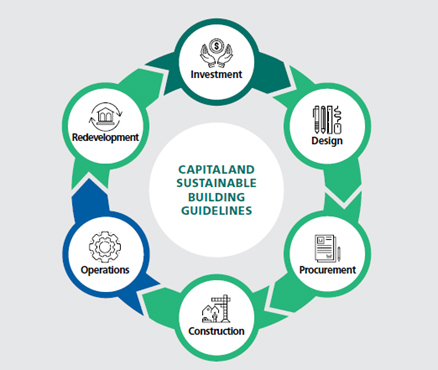 #1 Investment

Align with Sustainability Master
Plan (SMP) targets
Conduct EHS IA and gap analysis with SMP
Identify opportunities for innovation and value creation

#2 Design, Procurement, Construction and Redevelopment

Design in accordance with CapitaLand Sustainable Building Guidelines
Align with SMP targets
Testbed innovations
Adopt EHS best practices and appoint EHS certified main contractors
Monitor and report performance

#3 Operations

Asset planning to align with SMP– resource efficiencies in budget, future-proofing of portfolio
Embed best practices for sustainable operational excellence
Innovate and collaborate
Evaluate, monitor and report performance
Share lessons learnt and seek improvement
Mitigating Climate Change Challenges and Identifying Opportunities through Design
As countries rally for action to mitigate climate change, we expect more stringent regulations and increased expectations from stakeholders. By adopting the SBG, CICT aims to future-proof its developments by addressing the risks of climate change right from the investment or design stage. Every project is studied in detail and appropriate measures are adopted in consideration of climate change. The SBG also sets guidelines for buildings to be less energy reliant. For example, setting green building certification targets above statutory requirements, as well as encouraging the use of renewable energy, whenever possible.
Environment Health and Safety Impact Assessment (EHS IA)
A key component of the SBG is the mandatory EHS IA which is conducted during the feasibility stage of an investment into operational asset and development project. Significant findings of the EHS IA and their cost implications, if any, are incorporated in the investment paper and submitted to the Board of Directors for approval. The EHS IA considers Environment, Health and Safety risks and opportunities upfront and identify mitigating measures. The Environment aspect covers areas such as floods, biodiversity, air quality, noise, connectivity, heritage and resources. There are no properties in the portfolio located within protected areas and no material biodiversity risk has been identified.

We are committed to building safe, accessible, vibrant and quality real estate developments to enhance the lives of our stakeholders and communities around our properties.
Our social integration criteria, which factor universal design considerations include:
Ensuring accessibility in the built environment to people of different age groups and varying mobility
Enhancing connectivity to public transport, roads, amenities and between buildings
Providing community spaces as public gathering points
These design considerations are also integrated with CapitaLand's Sustainable Building Guidelines (SBG) to ensure that they are considered from the start of the project development process. For its new projects in Singapore, a target has been set to achieve at least a UD Mark Gold certification as assessed by Singapore's Building & Construction Authority (BCA).
Universal design considerations ensure that public spaces in our properties are accessible to users of different age groups and varying abilities. These include:
Seamless connectivity to the external surroundings, such as bus stops, adjacent buildings, streets and sidewalks
Barrier-free access from accessible (handicapped) parking lots and family parking lots to lift lobbies
Sheltered and barrier-free drop-off areas
Accessible (handicapped) and family lots
Designated pedestrian lanes in car parks
Amenities such as accessible toilets, lifts and nursing rooms
Atrium spaces, libraries and play areas for children
CICT's 22 operating properties in Singapore either offer direct access to public transport hubs or are close to MRT stations, bus stops and taxi stands.
All our properties have at least one facility for disability access. These include accessible alighting and boarding bays, lifts, parking lots and public toilets. Our properties are also guide-dog friendly.
To encourage greener transportation modes, the Trust has allocated around 1,000 bicycle bays as well as green parking lots with charging stations across our properties. Plans are also underway to roll out more electric vehicle charging stations in our portfolio in collaboration with Singapore Power Mobility. For tenants who cycle to work, shower facilities are available in some properties.
We have also continued the partnership with BlueSg on electric car-sharing at six of our malls, namely Clarke Quay, Funan, Lot One Shoppers' Mall, Plaza Singapura, Tampines Mall and Westgate.
| Type of Amenities | No of Retail Properties | No of Office Properties |
| --- | --- | --- |
| Facilities with disability access | 15 | 6 |
| Guide dog-friendly policy | 15 | 6 |
| Family and nursing rooms | 15 | 4 |
| Shower facilities | 2 | 6 |
| Accessible public toilets | 15 | 6 |
| Bicycle-sharing parking zones | 1 | 3 |
| Electric vehicle charging stations | 9 | 6 |
| Community spaces | 11 | 4 |
| Properties | Award | Year of Award |
| --- | --- | --- |
| Bedok Mall | BCA Universal Design Mark GoldPLUS | 2016 |
| Westgate | BCA Universal Design Mark Platinum | 2015 |
| JCube | BCA Universal Design Mark GoldPLUS | 2013 |
| CapitaGreen | BCA Universal Design Mark Platinum | 2016 |
| Capital Tower | BCA Universal Design Mark Gold | 2017 |
| Funan | BCA Universal Design Mark GoldPLUS | 2020 |
| CapitaSpring | BCA Universal Design Mark GoldPLUS (Design) | 2018 |
OPERATIONAL EFFICIENCY
Portfolio Resilience And Resource Efficiency
The efficient use of environmental resources such as energy and water, responsible waste management and consideration of the surrounding community, contribute to the operational efficiency and long-term sustainability of CICT's real estate portfolio. This will build resilience throughout CICT's operations and futureproof its real estate portfolio to guard against climate change risks and avoid premature obsolescence. In the long term, we believe this will be a differentiating factor for CICT in the markets that it has a presence in.
The usage of environmental resources in CICT's portfolio is closely monitored as part of our eco-efficiency objectives and long-term sustainability. Energy and water consumption, waste generation and carbon emissions at our properties are monitored via CapitaLand's Environmental Tracking System (ETS). All Property Managers are required to submit monthly reports with supporting documentary evidence through the ETS. The system's control and monitoring tool allows the Property Managers to conduct analysis against set targets and past trends to facilitate a better understanding of consumption patterns and identify potential areas for improvement.
Targets
CICT is aligned with CapitaLand's science-based targets set out in CapitaLand's 2030 Sustainability Master Plan as we transit to a low-carbon business. CapitaLand's revised carbon emissions intensity reduction target is computed from the approved science-based target, to better track our day-to-day operational efficiency.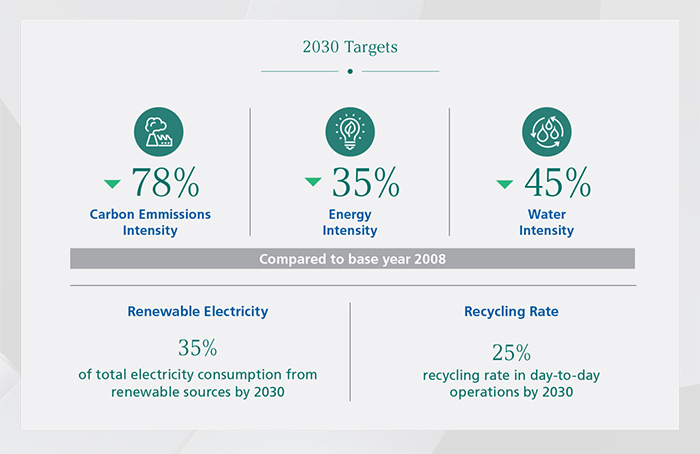 Carbon Emissions

CICT seeks to address the challenges of climate change by reducing our energy usage and carbon footprint across our business operations. Our focus is on minimising greenhouse gas emissions from our properties.
Scope 2 emissions1 in 2021 made up 63,885 tonnes. This is a 2.8% increase from 2020 for Singapore operating properties. For 2021, carbon emissions intensity for the Singapore operating properties was 4.52 kgCO2e/m2, representing a 50.3% reduction compared to base year 2008. This was a slight increase from 2020's restated carbon intensity of 4.40 kgCO2e/m2 or a 51.5% reduction compared to base year 2008.
Scope 1 emissions from adhoc diesel consumption was 321 tonnes for Singapore operating properties. Scope 3 emissions from assets under development or upgrading was 3,214 tonnes, contributing about 4.8% of total overall carbon emissions. There was no business travel via air by CICT employees in FY 2021 due to the pandemic.
Energy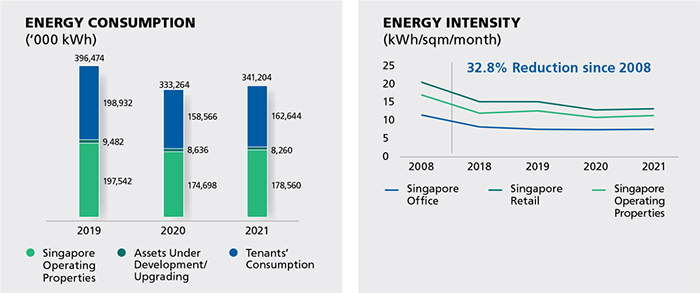 In 2021, CICT reported 178,560,000 kWh of energy consumption for the landlord-controlled areas in the Singapore operating properties and 8,260,000 kWh for CapitaSpring and 21 Collyer Quay, which were assets under development/upgrading that used a mix of purchased energy and diesel for its energy requirements. The overall energy usage for landlord's consumption was 2.2% higher year-on-year largely attributable to a low base due to the circuit breaker in 2020 and slightly improved business activities despite the on-off restriction measures experienced in 2021.
With the inclusion of district cooling energy in the energy intensity computation, CICT's 2021 energy intensity was a 32.8% reduction compared to base year 2008 versus the 2020 restated 33.9% reduction compared to base year 2008 for Singapore operating properties.
Tenants' consumption was 162,644,000 kWh. This excluded tenants' consumption at Plaza Singapura as tenants were billed directly, 21 Collyer Quay, which was undergoing upgrading works, as well as CapitaSpring as the building obtained temporary occupation permit in November 2021.
CICT also recorded direct fuel consumption of around 824,000 kWh resulting from usage of diesel for generator operations.
We recognise that as buildings become more energy efficient, the reduction in energy intensity inevitably becomes less significant. Collaboration with tenants becomes all the more important. A green clause is implemented for leases in majority of the Singapore portfolio where tenants are to support green initiatives implemented. In addition, a green fit-out guide, along with other materials are included in the handover kit which are given to new tenants. This is to encourage tenants to adopt green fit out and promote green practices and behaviour.
For the German assets, Gallileo and Main Airport Center reported a total energy consumption of about 16,124,000 kWh including district heating for the whole building. Gallileo did not record any energy consumption as it was leased to a single tenant who used renewable energy.
Renewable Energy
CICT has more than 1,700 m2 of solar panels at Bedok Mall, Bugis Junction, JCube, and Asia Square Tower 2. These solar panels have helped our properties to tap around 119,000 kWh of renewable energy source.
Water

The main water source for CICT's portfolio is from Public Utilities Board (PUB), Singapore's national water agency.
In 2021, CICT's total water consumption (including recycled water) amounted to around 1,526,000 m3 from the Singapore operating properties including assets under development/upgrading, CapitaSpring and 21 Collyer Quay. Excluding projects under works, the 2.9% increase year-on-year was largely attributable to a slight increase in business activities compared to 2020.
As a result, CICT's 2021 water intensity for operating properties inched up to 0.104 m3/sqm/month, representing a 3.6% year-on-year increase and a 40.9% reduction compared to the base year 2008.
To reduce water consumption, we also utilised recycled water such as harvested rainwater and NEWater for plant irrigation, hi-jetting of car park decks, the cooling towers and sprinkler systems across our Singapore operating properties. Twelve of CICT's operating properties used about 590,000 m3 of recycled water or 40.2% of the total water consumption in 2021. We adopt stringent monitoring of the consumption and water intensity to ensure that fluctuations are duly accounted for and issues are promptly addressed.
For our German assets, Gallileo reported about 19,000 m3 of water consumption in 2021. Water consumption data for Main Airport Center was not available at time of reporting.
Like-for-like Consumption Change on Year-on-Year Basis
CICT reported a year-on-year increase in the like-for-like change(1) in consumption across carbon emissions, energy and water for the 20 Singapore operating assets which excludes 21 Collyer Quay and CapitaSpring (under asset enhancement and redevelopment works). The slight increase across the like-for-like portfolio was largely due to a slight increase in business activities in 2021 compared to 2020.
| Metrics | Like-for-Like Change (2021 vs 2020) |
| --- | --- |
| Carbon Emissions (based on landlord's consumption) | +1.0% |
| Energy (based on landlord's consumption) | +1.1% |
| Water (based on total consumption) | +3.0% |
Waste Management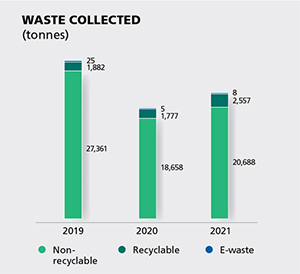 CICT is committed to the proper disposal of waste generated at our properties. We consolidated waste data for 22 Singapore operating properties in 2021. The collection and disposal of waste at these properties are being carried out by licensed contractors for recyclable waste.
About 20,688 tonnes of non-recyclable waste and 2,557 tonnes of recyclable waste were collected in 2021. Recyclable waste is 11.0% of total waste collected, and comprised approximately 1,897 tonnes of paper, 25 tonnes of plastic, 29 tonnes of metal, 10 tonnes of glass and 595 tonnes of other materials.
At CICT, we encourage and support our stakeholders' waste recycling efforts, by placing recycling bins in our operational properties. In 2021, National Environment Agency (NEA) appointed ALBA Group as the designated electronic waste (e-waste) disposal vendor for all retail properties and no data was shared. The office properties continued the partnership with Cimelia Resource Recovery for e-waste collection and a total of 8.1 tonnes was collected in 2021 from our Singapore operating properties.
For 2021, Gallileo and Main Airport Center recorded around 207 tonnes of waste collected. Details of the breakdown was not available at time of reporting.
Conservation Measures
CICT continues to implement various energy and water conservation measures which focus on regular maintenance and innovation to achieve operational savings as well as improving waste management. The measures are listed in the tables below.
Energy
Focus
Measures
Central Air Conditioning System

Installed with Measurement & Verification (M&V) System to monitor system performance daily
Perform preventive and periodic servicing and maintenance
Auto tube-cleaning system
Conduct energy audit periodically

Lighting

Replacing existing non-LED type with LED type
Lighting power budget of not more than 22 Watts per m2 for tenanted areas

Control, Metering and Monitoring

Building Management System
Sub-metering

Renewable Energy

Photovoltaic (PV) system
Plans in place to implement PV system at IMM Building in 2022

Equipment

Replace equipment with higher efficiencies
Water
Focus
Measures
Control, Metering and Monitoring

Install digital water meters for leakage detection and automatic meter readings in malls
To monitor water usage system
Conduct technical assessment periodically

Equipment

Replace equipment with higher efficiencies

Rainwater Harvesting

Reuse of storm water in some properties
Waste
Focus
Measures
Recycling

Collection stations at properties for paper, plastic bottles and electronic waste
Partnership with NEA to install reverse vending machine programme for the collection of drink containers at 12 malls
Pilot the CleanRobotics for trash sorting bins initiative at Raffles City Singapore in 2022
Pilot the introduction of food waste digester initiative at Tampines Mall and Funan in 2022
Reporting Scope
In 2021, the COVID-19 pandemic continued to evolve with a significant increase in infection rate and the rise of the Delta variant. While countries moved towards vaccinating the population, the safe management measures such as dining capacity limits and return to office restrictions continued to remain in place. In Singapore, the restrictions capped the shopper traffic at malls as well as workers' return to office as working from home was the default in the last two quarters of 2021. This impacted the footfall and physical occupancy, resulting in lower consumption of energy and water in 2021. A similar trend was observed in Frankfurt, Germany.
CICT reports the consumption trend for the last three years: 20191 , 20202 and 20213. Due to the effects of the pandemic, the 2020 and 2021 data are anomalies.
For reporting year 2021, CICT's Singapore operating properties comprise 22 properties across retail, office and integrated developments. Of which, some of the assets have changes in status:
One George Street was divested on 9 December 2021 (but recorded full year data);
Part of Six Battery Road was in the midst of its asset enhancement initiative for 2021;
21 Collyer Quay obtained Temporary Occupation Permit (TOP) for its enhancement works on 1 October 2021; and
CapitaSpring, which was under development obtained TOP on 15 November 2021.
By definition, Scope 1 emissions refer to direct emissions from activities controlled by CICT, Scope 2 emissions are indirect emissions associated with its consumption of purchased energy while Scope 3 emissions are indirect emissions from activities not controlled by CICT. Our footprint is calculated in accordance with the Greenhouse Gas (GHG) Protocol4.
CICT's Scope 1 data is derived from usage of diesel on an adhoc basis and excluded from carbon emissions intensity. Scope 2 data covered the purchased energy consumption relating to the operations. Scope 3 data included all purchased energy and diesel consumption for assets under development/upgrading, namely 21 Collyer Quay (1 January 2021 to 30 September 2021) and CapitaSpring for 2021.
The two German assets, Gallileo and Main Airport Center are third-party managed, and reported consumption data for energy, district heating, water and waste data for 2021 where available. Data which was not available as at the time of reporting were excluded.
All intensity data5 for landlord-controlled areas excluded assets under stabilisation or assets that do not have the full year consumption data for the reporting year.